Whiteley Shopping Centre opens after rebuild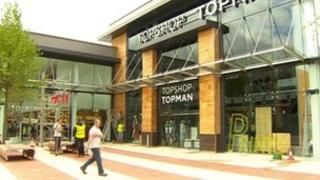 An £84m shopping centre has reopened in Hampshire after being completely redeveloped, creating about 1,000 jobs.
The original outlet centre at Whiteley failed to compete with shopping centres in nearby Southampton and Portsmouth and was demolished in 2011.
In March, more than 2,000 people queued for jobs at the new Whiteley Shopping Centre, near Fareham.
Units at the centre are now occupied by high street brands as well as local and independent retailers.
'Difficult climate'
Centre manager Neil Carter said: "There's a little bit of confidence returning to the retail industry.
"I think it's all about being in the right location. Because we are so close to both cities, but we are right off the M27, we've got good transport links and we have free parking."
Economist Chris Williamson, of Markit, said: "It's certainly a very difficult climate. We have got very low consumer confidence at the moment.
"We are certainly developing some momentum in the economy at last but the concern is that it is generated around spending again and this rebalancing to manufacturing just isn't happening. We are still very much a service and spending-based economy."