School's plea to find time capsules from 1960s and 1980s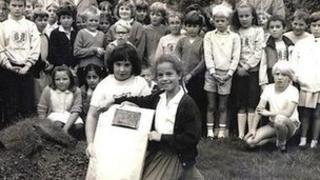 A Hampshire school has appealed for help to locate time capsules buried 25 and 50 years ago.
The capsules were laid at Fryern Infant and Junior School, Chandlers Ford to mark its opening in 1963 and silver jubilee in 1988.
Over time, the exact location of the two capsules in the school's grounds has been lost.
Teacher Ellie Reece said: "We'd really love to get hold of anyone who has an an idea where they might be."
Future hopes
Pupils at the school hope to dig up the capsules in September.
The capsule buried in 1988 is thought to contain articles from the then pupils detailing their likes, dislikes, hopes for the future and photographs.
Items in the capsule buried in 1963 remain a mystery.
The school has appealed for any former teachers or pupils who have any clues to either capsule's location to contact them.