Isle of Wight 'pterosaur girl' named tourism ambassador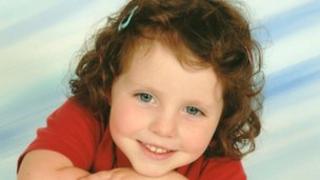 A girl from the Isle of Wight who discovered a species of prehistoric beast has become a tourism ambassador.
Dinosaur fan Daisy Morris, nine, from Whitwell, was five when she found the pterosaur fossil on a local beach.
It was named after her, and when it made international news she got letters from around the world from those wanting to visit "Dinosaur Island".
The island's official tourism guide said her discovery had brought it to the "attention of the world's press".
Visit Isle Of Wight said Daisy's role as children's ambassador would be a "great asset" to its tourism industry and that "she was the right person to represent the island to a younger audience".
Part of Daisy's ambassadorial role will be to review island attractions for children and to write about her experiences on the tourism website.
Daisy said: "It is going to be really fun, and I am really happy and pleased."
The pterosaur fossil was donated to the Natural History Museum, which recently named the Isle of Wight as the "dinosaur capital of Great Britain".
The fossilised skeleton of the flying beast Daisy found on Atherton Beach has been called Vectidraco daisymorrisae in honour of its young discoverer.
Vectidraco means 'dragon from the Isle of Wight'.
The confirmation of Vectidraco daisymorrisae in March came a week after the discovery on the island of an almost complete skeleton of a 12ft (3.65m) long dinosaur.
Pterosaurs were flying reptiles that lived in the same time period as dinosaurs, up to 220 million years ago.