Basingstoke Council considers £800,000 Costa Coffee purchase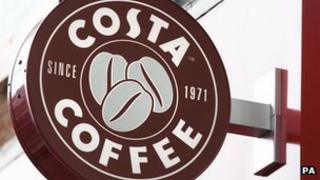 A council has been called "ludicrous" for considering spending nearly £800,000 on leasing a drive-through coffee shop.
Basingstoke and Deane Borough Council wants to purchase a 25-year lease on a Costa Coffee branch next door to a new indoor skydiving centre.
The council forecasts recouping the money in 11 years by charging the franchisee £64,000 a year in rent.
Opponents say the money should be used to support local trade and business.
The Airkix Skydiving Centre is set to open in July at the Basingstoke Leisure Park. The company currently has centres in Milton Keynes and Manchester.
Once complete, the Costa Coffee branded branch would be operated by franchisee Life Coffee Cafes.
Empty shops
Funding for the £786,000 purchase would come from the council's Invest to Grow reserve, a £1.25m budget available for supporting building projects.
Labour councillor Paul Harvey said: "There's currently 24 empty shops at the top end of Basingstoke town centre.
"The council has only made £200,000 available in the last year for that and is now proposing spending nearly four times as much on supporting a commercial enterprise.
"Set against a climate of cuts to services and other spending, it seems an utterly ludicrous decision."
Council head of resources Kevin Jaquest said: "This proposal builds on previous activity in the town's property market to drive regeneration.
"It provides an attractive investment return from the proposed capital outlay."
The council's cabinet will debate the proposal on 21 May.