Hampshire police respond to increase in illegal raves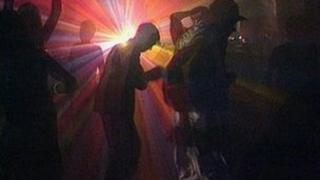 Police in Hampshire and the Isle of Wight are to co-ordinate a "long-term, preventative response" to unlicensed music events, or raves.
Hampshire Constabulary said it was launching Operation Enigma following an increase in the number of gatherings.
The force is holding a multi-agency meeting involving landowners, conservation groups and councils.
It said it attended 22 significant unlicensed music events in 2012 and three on 23-24 March this year.
Supt James Fulton, who is leading the operation, said: "Over the last few years we have seen an increase in the number of unlicensed music events across Hampshire and the Isle of Wight and the need for the police to co-ordinate a long-term, preventative response to these gatherings.
'Drug use'
"At the same time, we are looking to adopt a consistent approach across the two counties by providing a robust presence at the scene, seizing equipment where necessary and linking in with affected communities.
"Unlicensed music events are not harmless. They affect communities and have a negative impact on the environment and nearby wildlife. We also find that drug use is widespread and it may be only a matter of time before someone dies as a result."
Robin Edwards, regional director for the Country Land and Business Association, said: "Raves cause a great deal of disruption to local communities and often result in damage being caused to property and land. Hampshire Constabulary's proactive approach to reducing raves is very welcome as landowners can fall victim, bearing the considerable clean-up costs."
A force spokesman said challenges in the way unlicensed music events were classified meant there were no official statistics on the number of raves, but on March 23 and 24, the force prevented or dispersed three events in the New Forest, Bramshill and on the Hampshire-Berkshire border.