Adam Robinson gets five-year sentence for US child sex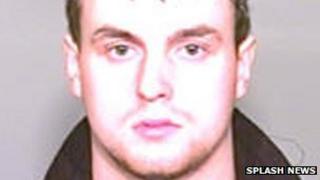 A British man has been sentenced to five years in a Californian prison for sexually assaulting a 13-year-old girl he first met online.
Adam Robinson travelled to the US and carried out a "lewd act" on the child at a motel in Redlands, California, between 15 and 23 December.
The 21-year-old, from Fleet, Hampshire, denied six counts of committing "lewd acts upon a child" but changed his plea at an earlier hearing on one count.
The other five counts were dismissed.
Robinson was sentenced at San Bernardino Superior Court to serve five years at the county jail, less 132 days served on remand.