Dorset Wildlife Trust patron quits in badger cull row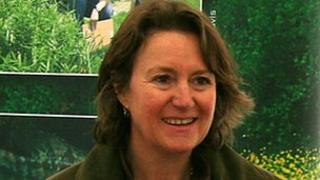 One of Britain's richest women has quit her post as patron of Dorset Wildlife Trust after the charity was targeted by animal rights activists.
Campaigners accused Charlotte Townshend of backing the government's pilot badger culls to tackle the spread of tuberculosis among cattle.
Chief executive Simon Cripps branded the activists "internet trolls".
Pilot culls are planned in Gloucestershire and Somerset this summer but Dorset is a reserve area.
A spokesman for Ilchester Estates and Mrs Townshend, who is also joint master of Cattistock Hunt, said she would "never do anything to harm the work of Dorset Wildlife Trust".
'Smelling salts'
A statement read: "It is a great shame that some of those who claim to be campaigning for wildlife actually focus on such negative activity rather than engaging in the sort of positive conservation work which Mrs Townshend has carried out over decades."
Following her decision to step down, Stop The Cull, a coalition of action groups campaigning against the badger culling, posted online: "We haven't 'targeted' the Dorset Wildlife Trust at all.
"We have not asked anyone to stop their subscription, we have not asked for boycotts, we haven't set up an email campaign, all we did with regards to the trust was tweet them a few times and leave some messages on their Facebook page.
"If anyone thinks that is 'targeting' then they need to sniff the smelling salts."
Mr Cripps said he Mrs Townshend's resignation was "a blow."
He said: "As yet Dorset's only on a reserve list so there isn't yet a cull, so it is strange to say the least that people would assume that any particular landowner would be for and against because they haven't yet been asked."
He added: "These are internet trolls because they're not prepared to listen to a sensible reasoned debate on this.
"We are the most outspoken organisation against badger culling, so why attack us?"
Ilchester Estates has declined to comment on whether Mrs Townshend supports the badger cull.