Views sought on future use for Osborne House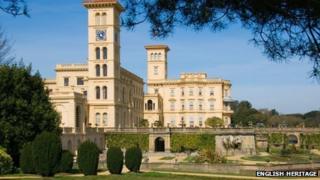 English Heritage is seeking views on what to do with a former military convalescence home at Queen Victoria's former palace on the Isle of Wight.
The buildings at Osborne House, East Cowes, which is managed by English Heritage, were closed in 2000.
The Osborne Estate Act 1902 meant the home could only be used to benefit former military officers and senior civil servants.
It was later amended, enabling English Heritage to bring it back into use.
MP Andrew Turner has welcomed the news.
"Seeing those historic buildings standing empty and not able to be used at all was very sad," he said.
Rob Flower, general manager at Osborne House, said: "We will now look at the best way of bringing this important part of the Island's heritage back into use and back to life."
English Heritage said it would consider all ideas from members of the public but added the use needed to "sit with the property role as a major visitor attraction".