DJ Rob da Bank backs Portsmouth and Southampton culture bid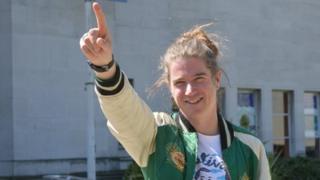 DJ Rob da Bank has been unveiled as the ambassador for Portsmouth and Southampton's joint bid to become the UK City of Culture in 2017.
The cities submitted a bid on Tuesday that focuses on their maritime heritage, arts and music connections.
Mr da Bank, organiser of Bestival on the Isle of Wight said their offering was "futuristic and forward-looking".
Eleven places have submitted bids from which a shortlist will be announced in June.
Despite being cities in their own right, Portsmouth and Southampton were allowed to submit a joint bid in the contest.
The DJ, who was born in Portsmouth and grew up in Southampton, said he would have an advisory role in developing ideas for events.
'Passionate competition'
"It's not just about attracting tourists, its about changing the way people in these cities live," he said. "Music, art and theatre make people's lives better.
"The cities have made some massive strides in rejuvenating themselves. There is amazing music coming out of here, some fantastic new artists and loads of brilliant producers, musicians and DJs."
Steve Pitt, chair of Portsmouth Cultural Partnership, described the prospect of being City of Culture as "an opportunity to do something spectacular".
He insisted there would be "passionate competition" between the cities, rather than their traditional rivalry.
"We've got something which is really exciting," he said.
"What could be better than two great cities, working together, each aspiring to put on the very best events they possibly can? That's what make's our bid unique."
The south coast cities are among 11 places in the running for the title.
The government-led programme was inspired by Liverpool's time as European Capital of Culture in 2008.
Southampton has opened its SeaCity Museum last year while Portsmouth is set to unveil its new Mary Rose Museum later this month.
Aberdeen, Chester, Dundee, east Kent, Hastings and Bexhill-on-Sea, Hull, Leicester, Plymouth, Southend-on-Sea and Swansea Bay are also in the running.
Other celebrity backers include veteran film director Richard Attenborough (Leicester), Lord of the Rings actor Orlando Bloom (east Kent) and Olympic diver Tom Daly (Plymouth)
The chosen place will succeed Londonderry, which is the City of Culture for 2013.
The bids will be considered by an independent panel, chaired by Phil Redmond, creator of popular TV series including Grange Hill, Brookside and Hollyoaks, and a shortlist will be announced in June.