Middle Wallop replica crash plane 'was turning'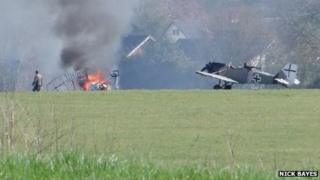 A World War I replica plane crashed killing its pilot after losing control while turning, a member of a display team has said.
Gordon Brander, from the Great War Display Team, said the aircraft was one of seven planes practising before it crashed in Hampshire on Saturday.
Its 68-year-old pilot, from Horsham in West Sussex, died at the Army Aviation Centre in Middle Wallop.
The cause of the accident is yet to be confirmed.
The pilot was flying a single-engine aircraft.
Mr Brander said: "There were seven aeroplanes involved in a carefully choreographed routine flown by very experienced display pilots.
"The team regularly use Middle Wallop as a practice facility and pre-season training was being carried out.
"Whilst turning, the aircraft got into difficulty and subsequently crashed."
The wreckage was removed on Sunday and will be examined as part of an investigation by the Air Accident Investigations Branch and Hampshire police.