Isle of Wight election: Parties back independents against Tories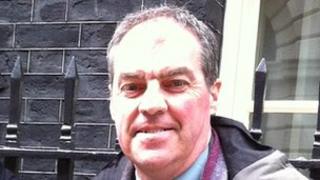 Independent candidates' chances in Shanklin on the Isle of Wight are being boosted as opposition parties stand aside in bid to help one beat the Conservative council leader.
Labour and UKIP openly admit they have not fielded candidates in Shanklin South because they support Richard Priest, who is up against Tory incumbent David Pugh.
Mr Pugh said the tactical decision not to field candidates was "insulting to the electorate", but Mr Priest said he was offering voters a chance to "move forward in a positive way".
Independents across the island have high hopes for Thursday's election, and 35 are standing in the Isle of Wight Council's 40 electoral divisions.
Former independent MP Martin Bell, who launched the independent campaign on the island in February, told them: "It's a good time for independents. I think you can make a big difference here."
Mr Priest agreed, and said this could be a "watershed election".
'Coalition considered'
He said independents would form a group and take control of the council if enough were elected, and would consider a coalition with other parties if necessary.
But Mr Pugh said only the Conservatives can give offer a "clear direction" for council policy.
"If we don't get a majority there is no other grouping that will," he added.
After the Conservatives - the only party with a candidate in every electoral division - and the independents, UKIP have the next largest number of candidates: 29.
The party did not field a single candidate at the last election in 2009, but chairman Rose Lynden-Bell said there had been a "large increase" in membership since then.
She said many people have joined due to concern over national issues, but members are also worried about island education, roads and house-building - which she said was being done for "people coming from the mainland".
Lib Dem decline
The Lib Dems, who controlled the council from 1989 to 1998 and were part of a coalition until 2005, will field just seven candidates.
Asked why, Lib Dem leader Reg Barry said: "That's the number of candidates we have available."
Mr Barry said seven former Lib Dem councillors will stand as independents.
One of those is Colin Richards, who was elected as a Lib Dem in 2009 but became disillusioned due to the party's national policy on university tuition fees and the criminal conviction of former cabinet minister Chris Huhne.
Mr Richards said independents can win on the Isle of Wight because many voters know the candidates, which he said was less likely in bigger places.
At present the Tories hold 24 seats, while there are 11 independents, four Lib Dems and one Labour member.
The Labour councillor Geoff Lumley, one of 19 candidates for his party, said he expects the Tories to lose their majority because of anger over issues including austerity and education.
School concerns
The Conservative manifesto highlights two key priorities: "helping island households" and "energising the economy" - but education was raised as a key issue by every non-Conservative candidate spoken to by the BBC.
The island's school system has been reorganised from a three-tier to a two-tier structure, and since then three of its six secondary schools have been rated "inadequate" by Ofsted.
Mr Pugh rejected criticisms about the island's schools, saying results for 11-year-olds were the "best we've ever had" and secondary education should be judged on a "school by school basis".
Simon Perry, editor of website OnTheWight, said education is the most important issue for many islanders.
He said the Tories are "worried about the independents", but added the party is "incredibly organised" and effective at mobilising its voters.
The Green Party and the Trade Unionists and Socialists Against Cuts have one candidate each. For the full list of candidates, click here.