Artist Emily Feaver 'lost' after theft of studio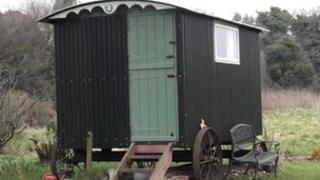 An artist has been left feeling "empty and lost" after the theft of a hut containing many of her paintings, sketchbooks and equipment.
The renovated corrugated iron shepherd's hut belonging to Emily Feaver was stolen from an isolated plot of land near Alton on Monday night.
It contained her latest work as well as paperwork and family sketches dating back 20 years.
Hampshire police confirmed they were investigating the theft.
'Guts ripped out'
It is believed the 6ft by 10ft (1.8m by 3m) shepherd's hut was loaded on to a trailer and driven away.
Ms Feaver, a professional artist, used it as a studio to produce prints and paintings for sale and exhibiting.
It contained furniture, paintings, family sketches and printing blocks as well as equipment including easels, paint and bottles.
"I'm just desperate to get something back - it's work from my whole life.
"It's like having your guts ripped out - it's my livelihood and I feel completely empty and lost," she said.
Ms Feaver has appealed for anyone who sees the contents of the hut dumped or offered for sale to contact police.