Margaret Thatcher road name plan by Portsmouth Conservatives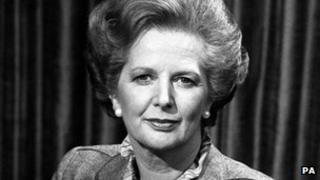 Proposals to name a road after former Prime Minister Baroness Thatcher have been met with a mixed response in Portsmouth.
Flick Drummond, the Conservatives spokeswoman for Portsmouth South, said the city's "pivotal" role in the Falklands War made it "fitting".
MEP Nigel Farage, leader of UKIP, has backed her idea.
Liberal Democrat MP Mike Hancock and Portsmouth Labour Group's John Ferrett said they could not support it.
Ms Drummond is taking her proposals to the next Portsmouth City Council meeting.
She said a new and non-residential road in one of the city's areas undergoing regeneration, such as Tipner, would be ideal.
Portsmouth has roads named after former prime ministers Winston Churchill, Clement Attlee and James Callaghan.
'Divisive figure'
Ms Drummond said: "She is one of our most notable politicians in the last century and we have a special spot for her in Portsmouth because of the Falklands.
"We set up a condolence book and it was quite remarkable how many people came forward who were in the services and thought very highly of her.
"I know she's a controversial character but there's an awful lot of support for her and I think it would be very suitable to have her name on our roads in Portsmouth."
Mr Farage said: "Given the importance of the Royal Navy in the Falklands conflict it's entirely appropriate Margaret Thatcher should be honoured in this way."
But Mr Hancock said Lady Thatcher's Portsmouth connections were debatable.
He added: "I think the appropriate place to name streets after people is in those areas where they were born, were brought up or represented.
"For example James Callaghan was born in Portsmouth.
"Lady Thatcher has no such connection with Portsmouth - other than that we saw big cuts in the Navy and dockyard under her premiership."
Mr Ferrett said Lady Thatcher was too divisive a figure to merit a road being named after her.
He added: "It'll become a focus for protests. Maybe in a few year's time it's something to reconsider.
"James Callaghan was not a similarly divisive figure. You need community support for something like this."
Argentina invaded the Falkland Islands in 1982. A task force of more than 100 ships sailed to the conflict zone from Portsmouth Naval Base.
Two months of fighting followed before Argentine forces surrendered.
Lady Thatcher died at the age of 87 on 8 April.