HMS Kent leaves Portsmouth on anti-piracy mission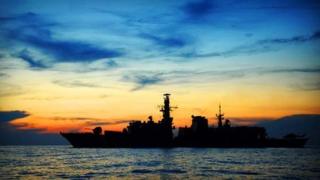 A Royal Navy frigate has set sail from Portsmouth for a six-month anti-piracy mission in the Indian Ocean.
HMS Kent will visit India and the Seychelles to enable the Royal Navy to maintain its long-term security presence along shipping routes.
Commander Ben Ripley said his crew was "looking forward to the challenges of counter-piracy operations".
The deployment is Kent's first since a £24m refit in 2011 which included a new sonar and medium-range gun.
The type 23 frigate will take over from HMS Northumberland.