Basingstoke M3 weather alert issued to drivers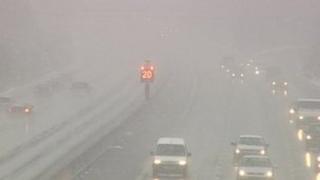 Speed restrictions have been put in place on part of the M3 in Hampshire after snow fall.
Police imposed the 20mph restriction between Junction 6 for Basingstoke and Junction 2 in Surrey for the M25 following numerous accidents.
Paul Watters, from the AA, said: "Conditions are very bad, we're moving from rain to snow and wind. It's the worst set of ingredients."
The Met Office said the snowy conditions would continue overnight.
The weather is expected to be calmer on Sunday with a drier spell forecast.