Langstone Harbour little tern nesting site project starts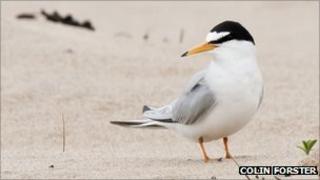 A project to protect nests on the Hampshire coastline has started in preparation for the return of endangered little terns.
Shingle beach in several nesting areas at Havant's Langstone Harbour is being built up to protect them from flooding.
The RSPB hopes works will be complete by May before the little terns return.
About £183,000 is being spent on conservation after research revealed little terns nesting in the area fell by two thirds in the last 20 years.
'Helping hand'
About 350 little tern pairs nested along the south coast in the 1980s. This has fallen to about 117 and about half of those breed in and around Langstone Harbour.
Tim Callaway from the RSPB said the project is a "major helping hand" in helping to reverse the decline.
"We are looking forward to their return to the harbour and the chance to enjoy their company with the as many people as possible," he said.
Works are part of a three-year project which includes creating additional nesting habitats on islands in Langstone Harbour and at the Oysterbeds at West Hayling Local Nature Reserve.
The RSPB secured funding from the European Union Interreg, Heritage Lottery Fund and Veolia Environmental Trust, which has awarded a grant of £15,110 for the first stage of the project.