Type 45 destroyer Duncan arrives at Portsmouth Naval Base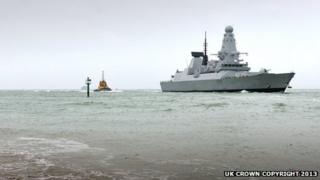 The last of the Royal Navy's new Type 45 warships has arrived in Portsmouth.
HMS Duncan travelled from BAE Systems' Scotstoun yard in Glasgow to Portsmouth Naval Base where it was formally handed over.
It is to join HMS Daring, HMS Dauntless, HMS Diamond, HMS Dragon and HMS Defender in active service.
A Royal Navy spokesman called them "the largest and most powerful air defence destroyers ever built for the Royal Navy".
HMS Duncan has a crew of 180 and is 152m (498ft) long.
It will undergo sea trials before being commissioned into the fleet next year.
Anti-air missiles
Its departure from the Clyde was delayed by four days because of a technical problem.
Defence minister Philip Dunne said: "The arrival of HMS Duncan in Portsmouth today marks the culmination of the Type 45 programme through which the UK shipping industry has provided the Royal Navy with a fleet of six world class destroyers.
"Together these vessels are a formidable force and will play an important part in allowing the Royal Navy to protect our interests wherever needed around the world."
Cdr James Stride, HMS Duncan's commanding officer, said: "My team of Royal Navy personnel have been 'standing-by' the build of the ship since the launch in October 2010 and the numbers have now grown to the full complement of 180 men and women who are all now focused on preparing for our sea training."
The hull of HMS Duncan is made of 2,800 tonnes of steel, more than the weight of Blackpool Tower, and its onboard power plant can supply enough electricity to light a town of 80,000 people.
Its handover completes a 12-year building programme to complete the six air defence destroyers.
The first Type 45, HMS Daring, arrived in Portsmouth in January 2009.
HMS Dragon set off on its maiden deployment to the Middle East for a counter-piracy operation on Tuesday, with HMS Defender commissioned into the fleet on Thursday.
When operational the Daring class destroyers are equipped with Sea Viper anti-air missiles.
They are able to carry 60 troops and have a flight deck which can accommodate a helicopter the size of a Chinook.
They can also take up to 700 people on board during emergency evacuation operations.