Abseilers repair unstable Shanklin cliffs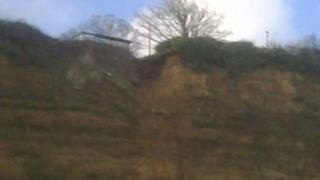 Abseilers are helping to repair a section of cliff on the Isle of Wight.
The specialist contractors will insert metal poles into the cliff face at Shanklin after part of it fell away during heavy rain in December.
The damage led to the closure of part of the Sandown to Shanklin footpath and it is hoped it will re-open by the Easter break.
Workers are installing timber boards to replace the fallen sections of cliff before filling them in.