Hampshire and Isle of Wight PCC: Simon Hayes marks 100 days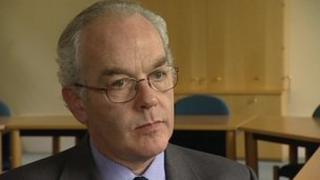 Hampshire's Police and Crime Commissioner (PCC) has called his early period in office a "challenge".
Marking 100 days in the role, Simon Hayes insisted there was "considerable public interest" in his role, despite the low turnout in the PCC elections.
But former police authority chairwoman Jacqui Rayment said the role was proving a "very costly experiment".
The commissioner has so far produced a budget, draft Police and Crime Plan, and appointed a new chief constable.
Ms Rayment, who was Labour's candidate in the PCC elections, said: "Credit where credit is due - he is trying to make a difference.
"People are committed to make it work, but it's a very costly experiment which hasn't really made much of an impact."
She said the PCC's new role in allocating Community Safety Fund money to local authorities meant organisations faced a potential funding gap.
In previous years community groups dealing with drug, alcohol and crime issues were given the money by councils before the start of each financial year.
Mr Hayes insisted the delay in allocating the cash was down to money not being made available by the government until mid-February.
"We have committed to respond to applications within two weeks. This is a quick turnaround that understands the need of organisations.
"There are a number of extremely good organisations working across Hampshire and the Isle of Wight dependent on grants to keep going. It is unfair on them if they are not able to plan ahead."
'Wrong reasons'
Elected PCCs, which replaced existing police authorities in 41 force areas across England and Wales, have the power to set force budgets and hire and fire chief constables.
A survey by the Electoral Reform Society, found 90% of people could not yet name their local PCC and the low turnout in November's PCC elections "failed both candidates and voters alike".
Mr Hayes, who stood as an independent candidate, accepted commissioners still did not have a high public profile. He said: "If I was a household name after 100 days, it would be for the wrong reasons. I'm quite comfortable with that at the moment.
"I do think people are starting to believe in it - once they know what it is about. It's my responsibility to show them how they can engage and there is a purpose to this role."
More on the PCC's 100 days on The Sunday Politics, BBC One South 11:00 GMT and on BBC iPlayer.