Eastleigh by-election: Anger over 'rainforest' of leaflets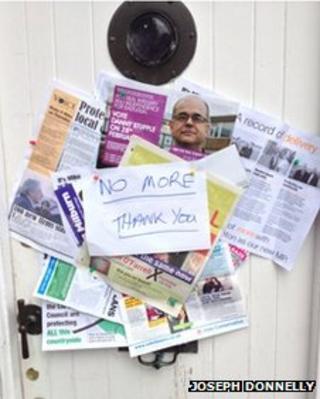 Householders have spoken of their anger after receiving a "rainforest" of leaflets in the run up to the close-fought Eastleigh by-election.
Homes in the constituency received dozens of flyers as 14 candidates vied for the seat vacated by Chris Huhne.
Many recipients said the "junk mail" undermined parties' green credentials but campaigners claim the material is essential to convey their manifesto.
Lib Dem Mike Thornton won the poll, with UKIP second and the Tories third.
Helen Rees, who lives in Fair Oak in the constituency, said: "I think it's disgraceful how much wastage all of the parties have caused by constantly barraging people with junk through their letter boxes.
"You have to wade through the door when you come in because there's so much on the doorstep."
She added: "I've had unsolicited text messages and phone calls. Everybody's fed up with it."
'Overkill'
Jenny Schwausch, owner of a bed and breakfast in Hedge End, received a "rainforest of political leaflets".
"It's overkill," she said. "I've had a lot from the Lib Dems in particular.
"They claim to be green so I'm not quite sure how they justify that."
Posting on Twitter, Nicky Hirst wrote: "I am sceptical about any party with a platform on 'green' following amount of leaflets through door."
All the candidates were asked to respond to the complaints but several parties - including the Lib Dems, Conservatives and Labour - have not commented.
UKIP spokeswoman Annabelle Fuller said: "We've limited the amount of literature we've sent out and tried to speak to people as we know that election fatigue can hit early in a by-election."
The National Health Action Party said leaflets were important to raise its profile as a previously unknown party, but said other parties had sent out too many.
Spokeswoman Giselle Green said: "I think there should be one booklet to which all parties contribute a page or two.
"The current system favours the big parties with huge amounts of money to burn and is a huge waste of paper."
Darren Procter, Trade Unionist and Socialist Coalition candidate, said: "We have only sent out one.
"As our message is simple and straightforward - that we oppose all cuts - we did not need to send follow-up leaflets."
Independent candidate Danny Stupple said he used a local firm to print his leaflets, and questioned the environmental impact of "thousands of cars travelling hundreds of miles" to bring staff and volunteers from other parties to the constituency.