Eastleigh by-election: Clegg anger at Conservative 'opportunism'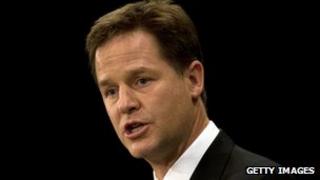 Nick Clegg has accused the Tories of "breathtaking opportunism" in the Eastleigh by-election campaign.
He spoke out after the Conservatives criticised the Lib Dem council for backing 1,400 homes on greenbelt land.
But Mr Clegg defended the planned homes at Boorley Green, saying the Tories have "no plan" to protect green spaces.
Tory hopeful Maria Hutchings called his comments "extraordinary" countering that the Lib Dems would apparently just "concrete over" such areas.
Last week George Hollingbery, MP for the neighbouring constituency of Meon Valley, said Eastleigh Borough Council had "played politics with the whole planning process".
'In-fill developments'
But Mr Clegg said: "I flatly reject the cynicism, the opportunism - it's really breathtaking - from the Conservatives, who have no plan to protect green spaces elsewhere, have no plan to provide affordable homes for people to live in."
He said the Boorley Green development would provide much-needed affordable homes and backed the council's decision to "concentrate" housing there.
"What the Conservatives would end up doing is having lots of in-fill developments of a few homes here and there across a rash of green spaces," he added.
Mrs Hutchings responded to Mr Cleggs comments, saying Eastleigh's Lib Dems have plans for a further 3,300 homes on green land.
'Ignoring wishes'
"It's extraordinary that the Lib Dems are still claiming that they will protect green spaces when they plan to concrete over our countryside with thousands more houses on green field sites," she said.
"I will continue to stand up for the people of Eastleigh and campaign vigorously against Lib Dems plans for inappropriate development on our green spaces."
UKIP spokeswoman Annabelle Fuller said: "What Nick Clegg is not admitting is that the housing plans which local councils have to follow are set by the coalition government.
"When it comes to ignoring the wishes of the local people in Eastleigh, both the Lib Dems and the Tories are as guilty as each other."
The list of candidates in alphabetical order is:
COLIN BEX - Wessex regionalists
DAVID BISHOP - Elvis Loves Pets Party
JIM DUGGAN - Peace Party
RAY HALL - Beer, Baccy and Crumpet Party
HOWLING LAUD HOPE - Monster Raving Loony William Hill Party
MARIA HUTCHINGS - Conservative
DIANE JAMES - UK Independence Party
DR IAIN MACLENNAN - National Health Action Party
KEVIN MILBURN - Christian Party "Proclaiming Christ's Lordship"
JOHN O'FARRELL - Labour
DARREN PROCTER - Trade Unionist and Socialist Coalition
DANNY STUPPLE - Independent
MIKE THORNTON - Liberal Democrats
MICHAEL WALTERS - The English Democrats - "Putting England First!"