Veteran's funeral: 'Marvellous' response to Facebook plea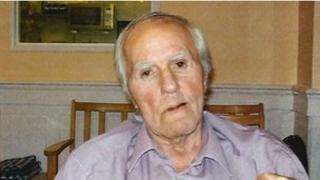 An online plea for mourners to attend a former serviceman's funeral has received a "marvellous" response.
James McConnell died last month aged 70 and staff at his care home in Southsea, Hampshire, feared they would be the only people at his funeral.
But Reverend Bob Mason, the local vicar, posted a message on Facebook - and thousands have read and shared it.
Now numerous ex-marines and other mourners are expected at Mr McConnell's funeral in Portsmouth on Thursday.
"It is tragic enough that anyone has to leave this world with no one to mourn their passing," Mr Mason wrote on Facebook.
British pride
"I am sure you will agree he deserves a better send off."
Mr Mason said he got a "marvellous response from around the country" following his message.
Ian Smith, one of the directors of Bluebell Nursing Home, where Mr McConnell arrived in December, said: "It's overwhelming. It makes you proud to be British."
Dizzy Page, activities coordinator at the home, said little is known about Mr McConnell's background - although he still owned a green beret which he said was from his time as a Royal Marine.
She said he was a proud and private person.
The funeral will take place at 09:30 GMT on Thursday at Milton Cemetery in Milton Road, Portsmouth.