Southampton man rescued from bedroom fire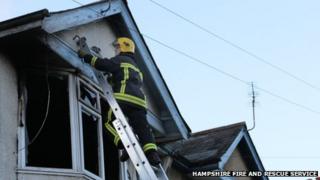 A 61-year-old man was rescued by fire crews after a severe fire broke out in a first-floor bedroom of a house in Southampton.
Hampshire Fire and Rescue Service were called to the property on Osborne Road South in Portswood on Friday afternoon.
Station manager Dave Graham said the man, who suffered burns and was taken to hospital by South Central Ambulance Service, was "very lucky to be alive".
A fire investigation is under way to ascertain the cause of the blaze.
A 999 call was received at 15:56 GMT from a member of the public reporting smoke issuing from the bedroom window.
The fire completely destroyed the room but was extinguished by 17:54.
Mr Graham added: "We made a quick entry and found the man in the bedroom doorway.
"Considering our crews were faced with a severe fire and a casualty, they did a tremendous job in confining the blaze to the bedroom and the man owes his life to their quick work."