Hampshire Constabulary in specials on horseback plan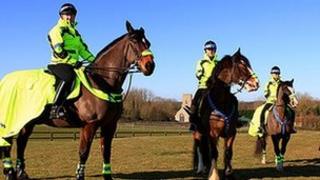 Hampshire Constabulary is drafting plans for special officers on horseback to help combat crime in rural areas.
The volunteer service would be part of the force's Country Watch team and could start in May if there is enough interest and skill from existing staff.
As well as theft and poaching, Ch Insp Simon Dodds said rural issues include fly-tipping, youths using motocross bikes and off-road driving.
Staff would need access to a horse which is suitable for police work.
Ch Insp Dodds said: "Historically we've been focused around vehicle crime, violent crime and burglaries and of course a lot of those happen in the towns.
"We want to try and refocus resources to look at some of the crimes that impact out into the rural areas."
He said the scheme was "still early days" and would rely on the number of volunteer staff from the equine community who come forward.
He added the additional cost would be about £400 to £500 per officer and horse to kit them out.
Hampshire Constabulary does not have a mounted unit.