Eastleigh by-election: John O'Farrell selected for labour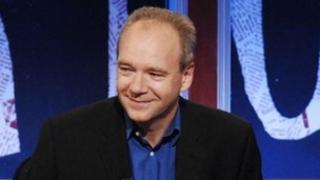 Author and broadcaster John O'Farrell has been selected as the Labour party candidate in the forthcoming Eastleigh by-election.
Mr O'Farrell announced his success on Twitter and later wrote: "There is a great deal of hard work ahead. But first I am going to the pub".
The by-election was triggered following the resignation of Lib Dem MP Chris Huhne, who admitted perverting the course of justice.
Voters go to the polls on 28 February.
Mr O'Farrell is the last of the main party candidates to be picked.
Speeding points
Councillor Mike Thornton , who has been a parish and borough councillor since 2007 and has lived in the area for 19 years, is to stand for the Lib Dems.
Maria Hutchings - who came second to Mr Huhne in the 2010 general election - will represent the Conservative party while Diane James is standing for the UK Independence Party,
Earlier today, Ms James said Romanians were associated with crime and called for a temporary halt to all immigration.
She was in the Hampshire constituency for a rally with supporters aided by Ukip leader Nigel Farage.
The election follows the departure of disgraced ex-Lib Dem MP Chris Huhne, 58, who admitted perverting the course of justice over claims his wife took speeding points for him.
The Lib Dems held the seat with a 3,864-vote majority in 2010.