Alex Thomson welcomed home from Vendee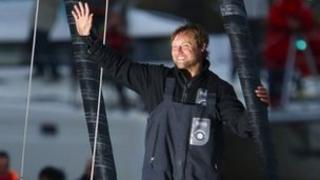 Hundreds of supporters turned out to greet Hampshire sailor Alex Thomson when he returned home to Gosport after finishing third in the Vendee Globe.
Friends and fans were lined up on the harbour wall as he sailed in accompanied by a flotilla of vessels.
He said he found the public's response to his homecoming "very humbling".
The 38-year-old is only the third Briton to achieve a podium finish in the non-stop three-month round-the-world race.
He crossed the finish line of the 24,000-mile race in Les Sables d'Olonne on 30 January.
'True sportsmanship'
During the race he paused during poor weather to ensure the safety of French competitor Jean-Pierre Dick after he lost his keel.
Talking about the camaraderie between the competitors, he said: "That is true sportsmanship.
"I think a lot of sports should be looking at what our sport gives in that sense."
Twenty yachts started the race on 10 November, but only 12 finished.
The event is considered the pinnacle of single-handed yacht racing.