Boy's death not due to neglect, Southampton coroner says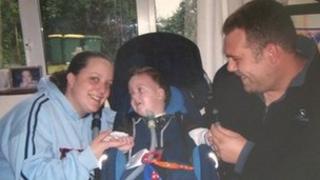 A hospital where a four-year-old died after a cardiac arrest went unnoticed for "a number of minutes" was not to blame for his death, a coroner said.
Matthew Kenway died at Southampton General Hospital in 2010 while recovering from a kidney operation.
His condition went unnoticed because a monitoring probe had come loose or malfunctioned, the inquest heard.
But on Tuesday a coroner said accepted definitions of neglect or serious failure were "nowhere near applicable".
Recording a narrative verdict, coroner Keith Wiseman said such claims were unfounded given that "Matthew was so closely monitored for so much of the time".
But Matthew's mother, Katie Oxley said: "We don't understand how it went unnoticed on a high-dependency unit that Matthew had actually gone into cardiac arrest."
Mr Wiseman said the cardiac arrest was "entirely unexpected".
He added: "Matthew was not linked to an electrocardiogram, as that was not standard practice at that time for patients on the paediatric high-dependency unit who had recently been for surgery."
Southampton Coroner's Court also heard an assistant ran for help instead of calling for an emergency crash team when staff noticed Matthew had no pulse.
University Hospital Southampton NHS Foundation Trust, which runs the hospital, said it has introduced electrocardiogram monitoring for all infants and children in the paediatric high dependency unit post-surgery since Matthew's death on 16 December 2010.
The trust's medical director, Dr Michael Marsh said: "This was an extremely sad case and our thoughts remain with Matthew's family following a very difficult period for them."