Winchester Market layout changes after bus hits boy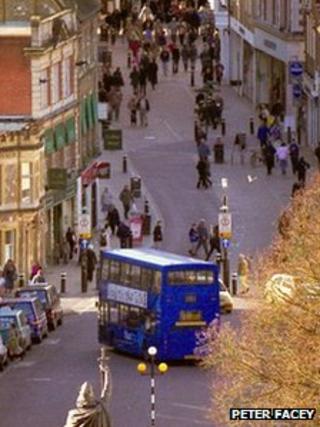 Stallholders at Winchester market have changed their layout to improve road visibility following an accident when a bus hit a boy.
From Sunday gaps will be added between stalls along with barriers and signs.
The 10-year-old boy was said to have run out into the road from the lower end of the city's pedestrianised High Street last month.
Winchester Tory MP Steve Brine said afterwards an "urgent review" of that part of the city's market was needed.
Mr Brine said: "I've been concerned for years about the safety of buses coming right into the pedestrian area in Winchester."
A County Council spokesman said there will be future discussions about the options of re-routing buses following the incident.
Councillor Vicki Weston, responsible for the council's planning and transport, said it hoped the boy "makes a speedy recovery".
She added: "It is important that any changes we make are appropriate and seek to improve safety."
The boy was airlifted to the trauma unit of Southampton General hospital following the incident on 25 January.
His injuries are not thought to be life-threatening and no arrests have been made.