Dawid Siwak found guilty of trafficking and servitude offences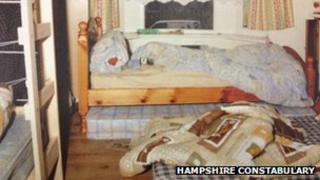 A man has been found guilty of trafficking Polish nationals into Portsmouth for his own financial gain.
Dawid Siwak, 30, offered the four men work in the UK, housed them in crowded flats and retained most of their wages.
A jury at Portsmouth Crown Court found him guilty of four counts of human trafficking and keeping a person in servitude.
His wife, Roza Urbanowic, 34, was cleared of four counts of holding a person in servitude.
During the trial prosecutor Barnaby Shaw said the facts of the case resembled "a Charles Dickens novel".
The court heard that between June 2011 and May 2012, Siwak, of Nelson Road, Southsea, encouraged four men to travel to Portsmouth from Poland.
They came willingly and made deals with him paying for food, travel and rent for crowded flats in Nelson Road and Laburnum Grove.
They were found work, such as packing salads.
'Cheated and exploited'
Siwak took them to open back accounts and used their bank cards and PIN to withdraw their wages as soon as they were paid in, the court heard.
"He would take them to and from work and discourage them from any life outside work," Mr Shaw said.
"He controlled their finances. They would occasionally receive a little money from him for tobacco or other expenses, but nothing that reflected the sums they were earning.
"He reinforced this regime with threats of violence or use of violence.
"They were kept in a permanent state of poverty. They felt cheated and exploited."
Liberal Democrat MEP Catherine Bearder who has campaigned on trafficking issues, said victims in such cases were "brutalised".
"It's poverty that drives people into the hands of the traffickers," she said.
"We need to get trafficking much higher on the agenda and we need the public's help.
"Open your eyes and ears - there are tell tale signs, children begging, people who look scared with controllers or people coming and going from houses at odd hours."
Siwak was remanded in custody for sentencing on 22 February