Southampton City Council to cut 'close to 300' jobs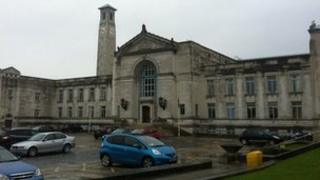 Nearly 300 jobs will be cut by Southampton City Council as it seeks to plug a budget gap of more than £20m.
The Labour-run council described its draft budget as "painful, but necessary" as it faces uncertainty over how much income it will receive.
Cabinet member Simon Letts believes the council will be able to protect services for the most vulnerable.
Unions representing the majority of staff will meet on Thursday to discuss their response.
The budget-saving proposals will see library opening hours reduced and charges introduced to bring residential parking in line with other local authorities.
A children's residential unit will close and youth services will stop.
The council will lose up to 279 full time equivalent jobs.
According to the unions, "considerable job losses" will occur in areas including parks, street cleaning and waste services.
'Economic crisis'
Mike Tucker, from Unison, said those who faced losing their jobs were "being put at risk by the economic policy of the Conservatives".
He added: "They are paying with their jobs for the economic crisis they did not create."
Councillor Letts, cabinet member for resources, said: "No one gets into local politics to cut services and drafting this budget has been a painful process for my cabinet colleagues and council officers.
"We have had to separate the 'good to haves' from the 'absolutely necessary' and we do feel that we have managed to protect services to the most vulnerable people in the city while making savings that will undoubtedly affect what the council can offer to the rest of us.
"Savings have to come from somewhere - but the purpose of the consultation is now to ask whether we have made the right choices, or perhaps there are money saving ideas out there that we haven't considered.
"This is an opportunity for people to let us know if you have a better option to make the books balance."
'Sharing services'
Conservative Royston Smith said the approach should be "sharing services, outsourcing where practical and modest pay cuts to protect jobs".
When in power, the Conservatives finalised budget cuts of £25m in February 2011 and said all workers earning more than £17,500, which is 65% of staff, would have their pay cut through reduced working hours.
It later revised the plans so those earning more than £22,000 would lose up to 5% of their pay.
Thousands of staff, including refuse collectors and social care staff, took part in months of industrial action which continued into the autumn of 2011.
Mr Smith said the latest job cuts and loss of services were a consequence of Labour reversing the policy.
"We never said we would save all of the jobs. We said if people took a modest pay cut, we could stop 400 people from losing their job - that did work, there is no question about that.
"We were 100% completely honest with the electorate - it wasn't popular with staff and residents sometimes, but we were honest."
Labour won control of the council in May 2012.