Bus Rapid Transit passenger numbers criticised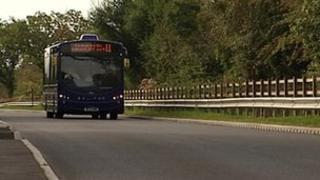 A £20m rapid bus transit route that opened in Hampshire in April has been criticised by some local residents for not carrying enough passengers.
The Bus Rapid Transit scheme links Gosport to Fareham along a disused railway line.
The council admits that the buses are often less than a quarter full but says the service is meeting its targets.
A survey shows an average of only 14 people are travelling on services during the morning peak.
'Travel with nobody'
The service carried 100,000 passengers in its first month and the target in the first year is for it to carry two million.
The deputy leader of Hampshire County Council, Mel Kendal, said: "Two million a year wouldn't justify the kind of capital expenditure we've made in the long term.
"It will in the short term but in the longer term, over the next decade, we want to see those buses a lot more full."
Bus route opponent Charlie Davies said that the buses, which run every seven minutes, had done nothing to reduce traffic on the A32 which remained heavily congested.
He added: "Out of peak times there are some buses that travel with nobody on at all."
But Mr Kendal said the bulk of passengers travelled during commuter periods and the buses continued to travel regularly through the day to ensure they were convenient to use.