Southampton woman lost sight swimming in contact lenses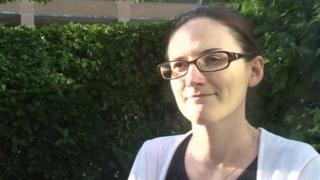 A woman lost the sight in one eye after going swimming in a pool at a hotel spa wearing contact lenses.
Jennie Hurst, from Southampton, contracted acanthamoeba keratitis - a rare and painful infection caused by amoeba which naturally occurs in water.
The infection causes hypersensitivity to light and the 28-year-old said she was confined to a dark room for three months.
She is now warning of the dangers of swimming or showering wearing contacts.
Ms Hurst underwent four operations, stays in hospital, and a treatment regime in which she had eye drops administered every half hour.
She said: "During that time I was literally confined to my bedroom with blackout blinds at the window. The only thing I could do was to listen to the radio.
"One evening, I was so desperate to look out of window to get a glimpse of the outside world that I opened my curtains in the middle of the night.
"As soon as I did this the moon shone in my eyes and it really hurt. I didn't do that again in a hurry."
Ms Hurst said she has been left with no vision in her left eye and the damage to her cornea could be permanent.
The environmental coordinator, who had been wearing contact lenses for five years, went swimming at a hotel while on a residential training course with work.
"The irony is that I don't even like swimming - I only did a few laps," she said.
"My consultants were quite surprised that I had gone swimming and probably thought that I had been a bit lazy whereas I wasn't aware of the problem at all - it didn't even enter my brain to take them out.
"I felt guilty that I had let it happen when actually I could have just taken my contacts out and saved everyone a lot of time and bother and myself a lot of pain.
"I have always been so careful with my contact lenses. I always remove them when sleeping and always use contact lens solution to wash them."
According to the British Contact Lens Association there are 3.7 million contact lens wearers in the UK which represents 7.5% of the adult population.
Parwez Hossain, the consultant ophthalmologist who treated Ms Hurst at Southampton General Hospital, said: "If you've been wearing contact lenses and you start developing irritation in the eye and sensitivity to the light which doesn't settle down after a few hours you need to go and see a doctor or optician.
"If it lasts longer than 24 hours you need to go and see an eye specialist."