Motorcyclist kills dog in Aldershot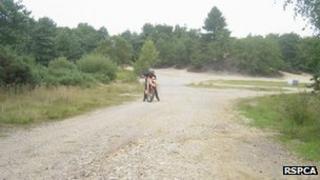 A motorcyclist who killed a dog by appearing to deliberately drive into it while it was on its owner's leash is being sought by the RSPCA.
The ten-year-old German Shepherd, Zena, and her owner were walking on heathland in Aldershot, Hampshire, when they spotted a man on a motorcross bike.
The owner said the rider sped towards them and crashed into the animal, throwing it 25ft across the ground.
The RSPCA said it was an "unbelievable act of cruelty".
'Unbelievable act'
The dog-owner from Farnham, Surrey, who did not want to be named, said: "As she lay on the ground dying, he carried on riding his bike around and around the area
"Eventually when I shouted that my dog was dead and then got my camera out to take a picture of the man, he eventually rode off.
He added: "I have gone over it in my mind. I know he could see us, he even stopped as though he was trying to intimidate me and then he rode at full speed in our direction.
"There was plenty of space for him to swerve or slow down if he wanted - it was no accident.
"I cannot even imagine what would cause anyone to behave in such a way and I am stunned. I have lost my companion and my friend, she was such a lovely dog."
Zena suffered multiple injuries as a result of the crash and her heart stopped beating minutes after it happened at about 13.30 BST on 16 August.
RSPCA chief inspector Dave Fox said it was an "unbelievable act of cruelty".
He added: "Not only did it cause no end of suffering to a much loved pet but what the poor owner went through is horrendous."
The RSPCA said the bike was a KTM EXC/Super Moto which is a road legal bike fitted with lights and indicators.