Ben Ainslie's Lymington club praises 'humble national treasure'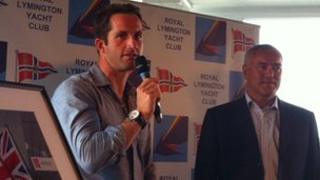 He may have conquered the Olympic waters of Weymouth Bay, but Ben Ainslie was soon overwhelmed by a tide of enthusiastic fans at his home yacht club.
The four-time gold medallist was cheered as he entered the Royal Lymington Yacht Club on the Hampshire coast earlier, after winning sailing gold at the London Games.
Champagne glasses were raised by members packed into the waterside premises as Ainslie recounted how he had beaten his Danish rival Jonas Hogh-Christensen to win gold in the Finn class.
He said: "It's wonderful to see so many friendly faces.
"It's down to this club and others around the country which give us such great support for the sport.
"It's important we build on this and give all these youngsters a chance to enjoy the same thing."
Among Ainslie's legion of young fans was George Matcham, 12, who beamed as he got to wear the medal on the day he had been out sailing with his father.
His mother Vicky told how he had been so moved by Ainslie's efforts that he said "I want to be Ben Ainslie".
Even passengers on a passing Isle of Wight ferry waved and strained for a view of Britain's sailing hero.
Ainslie, 33, moved to this part of the New Forest coast 12 years ago.
Its cobbled streets lead down to the waterfront and three marinas looking out to the Solent and the Isle of Wight.
For the members of the Royal Lymington Yacht Club, having an Olympian in their midst is nothing new.
The honour board records Sir Arthur McDonald competed in 1948, but club secretary Kevin Podger thinks Ainslie's achievement will not be matched.
"It means a huge amount to the members and they are hugely proud," he said.
"He is dedicated to sailing and an out-and-out single-minded athlete."
For the club's younger members, having an Olympic champion to learn from is a big incentive to continue with the sport.
James Brook's eight and six-year-old children were keen to give Ainslie pictures they had drawn of his exploits.
He said: "It's been phenomenal for the kids. They saw what it took to succeed and to fight to win.
"It's great to have a real legend at the club. Whenever he trains them he does nothing but inspire them.
"He's a kind and humble national treasure."
As the queues for autographs and photos gradually shrank, one member joked "that fella will never have to buy a beer again".