Hobbit pub copyright row: Legal fees fundraising event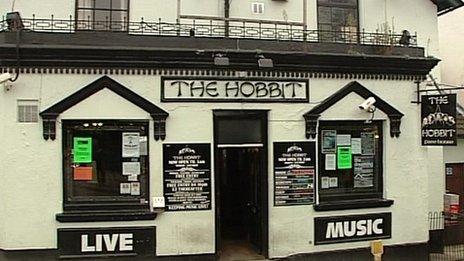 A Southampton pub at the centre of a copyright dispute with a US movie company over its name The Hobbit is holding a legal fees fundraising party.
The pub in Portswood was threatened with legal action by Hollywood Lord of the Rings film firm the Saul Zaentz Company (SZC) in March.
It later offered to resolve the dispute over the pub's name and decor by licensing it to use JRR Tolkien brands.
But wrangling over the small print of the deal is continuing.
Landlady Stella Roberts said any money raised will help pay for the lawyer's fees.
She said she could not discuss the negotiations as she had signed a confidentiality agreement, but added: "We are very frustrated.
"We're living in limbo here. We just want the whole thing finished.
"We just don't know what to do. We've been advised to carry on trading as we were, because we haven't got a lot of choice."
The party starts at midday and goes on until the early hours of Sunday, with an auction featuring items donated by celebrities, live music, sumo wrestling, laser shooting simulators and a Caribbean BBQ.
Fry and McKellen
Actors Stephen Fry and Sir Ian McKellen said they would pay for the copyright licence fee so that the pub can carry on trading as The Hobbit, once it has been agreed.
Both actors have criticised the film company's action.
Mr Fry, who stars in the forthcoming Tolkien film The Hobbit, called it "self-defeating bullying", while Sir Ian, who plays Gandalf in the Lord Of The Rings films, described it as "unnecessary pettiness".
Nearly 60,000 people have also joined a Facebook campaign to save the pub.
SZC owns the worldwide rights to several brands associated with author JRR Tolkien.
Producer Paul Zaentz said trademark law dictated it had to act against infringements of its brands, but it was open to licensing the pub to use them at a cost of about $100 a year.
The pub in Bevois Valley, which is popular with students, has traded with the name for more than 20 years.
It features characters from Tolkien's stories on its signs, has "Frodo" and "Gandalf" cocktails on the menu and the face of Lord of the Rings film star Elijah Wood on its loyalty card.
A letter from SZC had asked the pub to remove all references to the characters.