Gosport sailor Alex Thomson breaks solo transatlantic record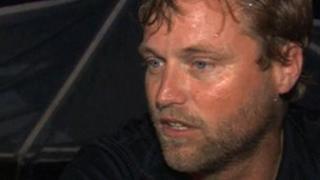 A Hampshire sailor has crossed the Atlantic in a record-breaking time.
Alex Thomson, 38, from Gosport, left New York on 17 July at 20:09 BST and crossed the finishing line in Plymouth at 18:17 on Thursday.
His solo crossing time of eight days, 22 hours and eight minutes to cover 2,800 nautical miles broke the current record by more than 24 hours.
The record-breaking time will be subject to ratification by the World Sailing Speed Record Council.
The previous record, which was set by Swiss sailor Bernhard Stamm a decade ago, was 10 days, 55 minutes and 19 seconds.
'Training exercise'
Mr Thomson said: "Lack of sleep, broken instruments on the boat and constant exposure to the elements has really taken it out of me," the yachtsman said.
"But it's such a good feeling to have beaten it by such a great margin."
Mr Thomson said his secondary aim was to get home in time for the opening ceremony of the 2012 London Olympic Games to support chairman and good friend, Sir Keith Mills.
"To be back in time for the Olympics is fantastic, and something that I hoped was possible though wasn't entirely sure," he said.
The adventurer said the transatlantic crossing was a warm-up in his quest to be the first Briton to win the Vendee Globe single-handed, round-the-world race.
"This record attempt was also a training exercise for the Vendee Globe - we felt it would put me under real pressure and simulate race conditions and I have felt a real value in it," he said.
He is one of three British competitors who will take part in the non-stop, solo, unassisted round-the-world yacht race starting in Les Sables d'Olonne in France, on 10 November.