Solar panel farm switched on in New Forest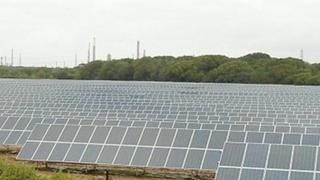 One of the UK's largest ground-mounted solar farms has been switched on in Hampshire.
Energy firm Anesco has erected 18,000 panels on 30 acres of farmland on the Cadland Estate, near Fawley, in the New Forest.
The farm will earn money through the government's Feed in Tariff scheme for renewable energy.
Anesco said the 5MWp project would generate enough electricity to power at least 1,000 homes.
The panels are fixed to the ground using 5.5 miles (9km) of metal framework, as an alternative to conventional concrete foundations.
Land owner Aldred Drummond said: "With this project we are creating a road map for sustainable farming and demonstrating how the industry can effectively use a combination of innovative technologies and new ways of working."
Adian Pike, of Anesco, insisted the project was "very sustainable" despite the reduction in the levels of subsidy provided through the Feed in Tariff scheme since 2011.
He said a fall in the cost of solar panels and increasing engineering expertise in solar technology was compensating for the fall in subsidies.
Mr Pike also said the solar PV system would work even when the sun was not shining and would "generate at low light levels and when it's raining".