Isle of Wight Vectis Wind Farm plans rejected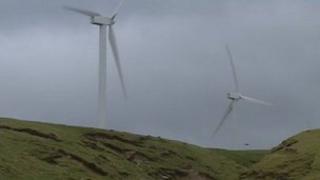 Plans to build a wind farm on the Isle of Wight have overwhelmingly been rejected by the council.
Infinergy, which is based in Wimborne in Dorset, wants to build five turbines on land south of Wellow near Yarmouth.
Councillors voted by nine to one to refuse consent for the Vectis Wind Farm.
Developer Infinergy says the island is "lagging behind" on renewable energy despite its aspiration to be an energy self-sufficient "eco island".
Planning officers had recommended a refusal because of concerns over the impact on the landscape and local residents.
That was despite receiving 1,274 letters of support for the application and only 836 objections.
Esbjorn Wilmar, managing director of Infinergy said Isle of Wight councillors had "missed a huge opportunity to show leadership and make a considerable contribution to local renewable energy production".
'Emotive claims'
He added: "The Island is lagging woefully behind on renewables compared to other counties, despite ambitious targets in their newly adopted Island Plan, a viable but unharnessed wind resource and the resolve to become an energy self-sufficient eco island.
"We are totally confused that so many people support what we are trying to do and when it comes to the crunch, the planning board responds to emotive claims and adopts a cautionary approach.
"If eco island is to be realised, large scale onshore wind has to be part of the mix, it cannot be done without a number of wind turbines.
"We remain convinced this is a good proposal which has the support of many local people, as well as most professional bodies."
He said Infinergy would be appealing against the decision.
The firm estimates that the wind farm would generate 12.5 megawatt (MW) of electricity per year.
The island plan core strategy states that renewable energies should be encouraged to meet the island onshore target of up to 100 MW.
The council has said the target could be met through contributions from a range of technologies, including at least 22.5 MW from wind.