Twitter prayers posted by Portsmouth nun Elizabeth Pio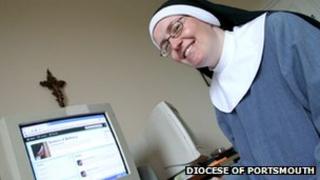 A Portsmouth nun has turned to social media to convey her religious messages in between spending time in silence.
Sister Elizabeth Pio, 41, has begun using Twitter on behalf of the Sisters of Bethany, an Anglican order who spend hours each day in silent reflection.
@bethanysister posts about prayer, saints and current events, including Euro 2012 football matches.
She said: "It's great that we can communicate with an online community, most of whom we'll never meet."
Sister Elizabeth said: "We recognised that social media was how people often communicated these days, so it made us have a look at it.
"We're still trying it out, really, and it is a bit of a learning curve."
'Not so far behind'
Recent tweets included comment on the England v Italy Euro 2012 quarter final being played on a Sunday.
She tweeted: "The Sabbath was made for man, but was it made for professional football matches.......? God won, England out!"
Sister Elizabeth also tweeted when a cascading bug rendered Twitter unusable on 21 June.
"It reminded me that #God never has downtime, He's always and forever," she posted.
The 41-year-old joined the Sisters of Bethany, in which members take vows of chastity, poverty and obedience and pray daily, in 2005.
Sister Elizabeth said her use of Twitter showed that "nuns are human beings, not pious people who are always thinking about spiritual things".
"And it's important to show that nuns and monks can use current technology - we're not so far behind the times."