Dalai Lama visits Aldershot Town football ground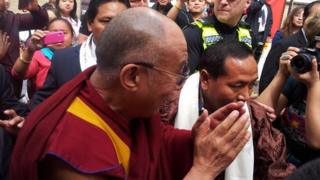 Tibetan Buddhist spiritual leader, the Dalai Lama has given a talk in the Hampshire town of Aldershot as part of his eight-day visit to the UK.
Tenzin Gyatso, the 14th Dalai Lama, addressed a large crowd at Aldershot Town Football Club's EBB Stadium.
He spoke to thousands of people on a number of topics, including mutual respect and religious harmony.
"If you take positive action to help other the result will be positive and you can benefit," he said.
"If you bully other, hurt other, those actions bring negative consequences."
'Just awesome'
The event was organised by the Buddhist Community Centre UK (BCCUK), based in Camberley, Surrey.
Tickets for the event were on sale for between £15 and £100.
Lizzy Fletcher, 40, from Farnham in Surrey, attended with her 13-month-old son Tenzin and eight-year-old daughter Sophia.
She said she had seen the Dalai Lama in London with her parents 30 years ago.
"He's just awesome, he's amazing," she said.
"He's such a wise person, it was just amazing to be in his presence."
Ann Grainger, 58, from Aldershot, said: "I'm a Christian and I came to hear him because any religion that teaches peace and harmony is important."
The Dalai Lama is nearing the end of an eight-day visit to the UK, during which he has given talks on non-violence, dialogue and universal responsibility.
On Saturday, he addressed crowds at an event compered by comedian Russell Brand at Manchester Indoor Arena. He also appeared at the Royal Festival Hall in London on Tuesday.
The Dalai Lama lives in exile in India, travelling the world to seek support for more rights for Tibetan people.