Diamond Jubilee: Hampshire and IoW events continue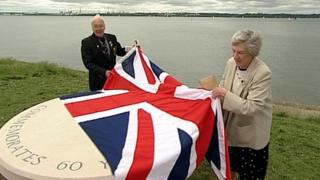 Events to mark the Diamond Jubilee are continuing across Hampshire and the Isle of Wight.
Gunners at The Royal Armouries Museum at Fort Nelson near Fareham fired a 21-gun salute.
On Monday, more than 60 road closures were in place for street parties organised by local communities.
In Andover residents of Lockstock Close organised a best-dressed house competition before their street party.
Celebrations in the Test Valley village of Wherwell began with a peal from the local church's newly installed bells.
Mary White, who has organised a party in Chichester Road, Southampton, said: "It felt like Siberia this morning, but we've got loads of activities to keep people warm.
"It's been a party where everyone has stepped up and taken on tasks - we've got an army of people to do it all.
"People are very, very proud to be part of something so special."
Normandy veteran Stanley Rickeard unveiled a Jubilee table at Netley on the shores of Southampton Water.
He said: "I'm very proud. The Queen has guided us through 60 years very well."
At Colden Common, the mayor of Winchester and three previous mayors lit one of the nationwide chain of Jubilee Beacons.
Among the other locations where beacons were lit are Lepe Country Park and Yarmouth on the Isle of Wight.
In Petersfield, 500 people are due to carry lanterns to an event where a flaming crown on Heath Pond was lit.
'Tremendous day'
More than 170 street parties were held in Hampshire and the Isle of Wight on Sunday to celebrate the Diamond Jubilee.
Portsmouth had nearly 50 road closures across the city. The Guildhall hosted one of the biggest free street parties in the country.
In Botley, the village was packed with people having a giant street party and picnic lunch.
Villager Ann Goddard said: "It's great to see the whole village come out and celebrating together.
"It's been a tremendous day and superb atmosphere."
On the Isle of Wight, Osborne House in east Cowes held a Victorian-themed party including a "visit" from a look-alike Queen Victoria - the only other British monarch to celebrate a Diamond Jubilee.
See all the latest Diamond Jubilee news and features at bbc.co.uk/diamondjubilee