Tree frog found in supermarket asparagus in Portsmouth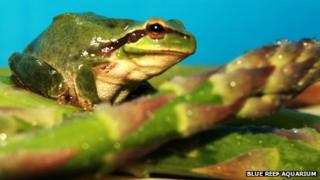 Shoppers have found a tree frog nestling in Peruvian asparagus tips bought in a supermarket.
Ann and Jim MacFarlane from Southampton made the discovery after shopping at a Portsmouth Morrisons store.
Given the name Maurice, the European tree frog is being cared for by their daughter Jenna, who is a tropical frog specialist at a Southsea aquarium.
Maurice is being kept in the aquarium's quarantine area and is described as being in an "excellent condition".
Miss MacFarlane, who works at the Blue Reef Aquarium, said it was very rare to find the species in England.
'Very active'
She speculated he climbed on to the Peruvian asparagus after being transported on fruit or vegetables as the frogs are usually found in parks, vineyards, orchards and gardens.
She said the 4cm frog became "very active" after warming up following his discovery by her parents on Wednesday.
European tree frogs are found throughout much of the European mainland as well as in parts of Africa and Asia.
The aquarium plans to put Maurice on public display after his time in quarantine.
A Morrisons spokesman said: "All of the products sold in our stores go through a rigorous quality checking process to ensure they meet the high standards our customers expect.
"Unfortunately it appears that on this occasion the asparagus in question did not meet these standards.
"We wish Maurice all the best in his new home."