Snooping council in Dorset cuts 'spying' on residents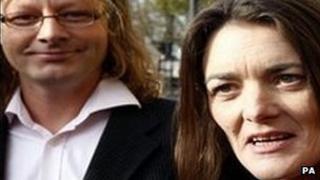 A council in Dorset that snooped on a couple in 2008 to see if they were cheating the school catchment system has since spied on residents just once.
Tim Joyce, Jenny Paton and their children were put under surveillance by Poole council under the Regulation of Investigatory Powers Act (RIPA).
RIPA, to help track criminals, was not used by the council in 2010/11 or 2011/12 but was used once in 2012/13.
A council spokesman said they had "recognised public opinion" on RIPA.
Miss Paton described the council's decision to place her family under surveillance as "hugely disproportionate".
'Use extremely limited'
The couple had applied to have their then three-year-old daughter accepted into Lilliput CE First School - described by inspectors as "outstanding" and heavily over-subscribed.
After two weeks of surveillance the couple were exonerated and their daughter was awarded a place.
At the time the council said the case was treated as potential criminal activity, which justified the use of the act, but has since changed its stance.
Tim Martin, head of legal and democratic services at Poole Borough Council, said: "The council's use of RIPA is extremely limited.
"Where covert surveillance is required we will use these powers as necessary and appropriate. However, we recognise public opinion on this matter and have identified other ways of undertaking appropriate enforcement action."
Illegal shellfish dredging
The council's most recent use of the RIPA powers was in relation to illegal shellfish dredging.
RIPA was used four times in 2008/9 for incidents relating to illegal shellfish dredging, school admissions, noise nuisance and anti-social behaviour.
In 2009/10 it was used three times, for two cases of anti-social behaviour and one of noise nuisance.
The Protection of Freedoms Bill, which will see householders now protected from town hall snoopers checking their bins or school catchment area, became law on Tuesday.
It will also lead to the destruction of DNA samples and profiles given by innocent people and scale back the employment vetting process and the scrapping of section 44 powers, which have been used for stop and search on innocent people.