Southampton Aeronautica museum site is withdrawn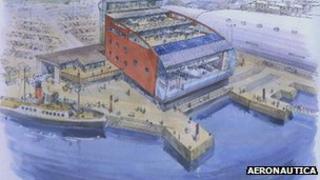 Plans for an £8m waterfront museum dedicated to Southampton's transport heritage have stalled after its proposed site was withdrawn.
Aeronautica was due to be located in Southampton Docks, owned by Associated British Ports (ABP).
But under a new plan for the area, Red Funnel's ferry operations could move to the site as part of a £500m wider regeneration of the city's waterfront.
Museum project leader Alan Jones called it "a massive disappointment".
ABP told the museum team it was withdrawing the offer of a long-term lease, in case the ferry terminal has to be moved to free up the land around its existing base at Town Quay for redevelopment.
The proposals form part of a £500m plan by developers Morgan Sindall.
Doug Morrison, director of ABP Southampton, said: "This is something we're still very keen on, we want to see a museum on the waterfront. We can't have both [Red Funnel and Aeronautica] at Berth 50."
Mr Jones told the BBC the move was unexpected.
The project had already raised £130,000 to move exhibits to the earmarked site at Berth 50 in Southampton Docks.
The plan was to have the city's heritage boats moored alongside a museum building housing maritime, aviation and transport exhibits.
Two vintage city trams and the Calshot lightship have already been moved to the site.
'Tourism is money'
Mr Jones said: "If Aeronautica is to survive we need a waterfront site, and that is now a challenge.
"I'm hopeful this might galvanise and prove to everyone the city deserves a major heritage site on the waterfront. Tourism is money."
He added that attempts to raise the £8m necessary to fund the museum could not begin until it has the promise of a new site.
Leader of the Conservative-run council Royston Smith said they "should be able" to relocate Aeronautica.
"A £500m redevelopment of the waterfront that the city can be proud is something we're very focused on. It doesn't mean Aeronautica won't be part of it.
"This isn't the end of Aeronautica - we've supported them throughout. We want to see the historic ships somewhere where people can have access to them."