Navy museum in Portsmouth gets £1.4m lottery grant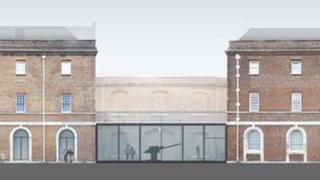 Portsmouth's navy museum has been given a £1.4m lottery grant for new exhibitions.
The National Museum of the Royal Navy (NMRN) at the Historic Dockyard will use the money to tell the story of the navy since 1900.
According to a spokeswoman, the 20th and 21st Centuries form "a largely untold part of our maritime heritage".
The Georgian Storehouse 10, built in 1776, will be restored to accommodate the museum's collections.
Storehouse 10 will be connected to Storehouse 11, enabling the museum to showcase four centuries of its naval history together for the first time.
WWI centenary
Dr Dominic Tweddle, director general of the NMRN, said: "Despite the remarkable achievements of the men and women of the senior service over the past 100 years, there is no single exhibition in this country that tells their story.
"We can now put that right - and do so here in Portsmouth, the home of the navy."
He said the museum still needed to raise another £1.3m for the project.
"There is no time to lose - we are determined to have the new exhibitions opened by 2014, the centenary of the start of World War I, so the museum can be at the centre of marking the Navy's vital role," Dr Tweddle added.
Matthew Sheldon, museum project director, said: "The navy has faced unprecedented changes and challenges since 1900.
"We want these exhibitions to convey this through the real things and the real voices of the men and women who lived, worked and fought to create this history.
"The new galleries will feature amazing stories of how past generations faced these challenges and also look forward to what the navy faces now and might face in the future."