'Forgotten' Bob Marley gig at Southampton club commemorated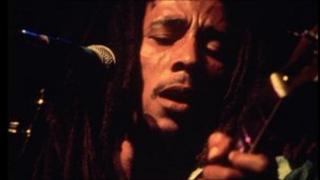 A largely forgotten gig in a packed, sweaty Southampton nightclub in the early 1970s by reggae legends Bob Marley and the Wailers has been commemorated.
The Jamaican band members were yet to become global stars when they were booked to play the now-demolished Coach House Club, in Swaything, in May 1973.
Dave Poulton, the club's DJ, recalled how the "mesmerising moment" came after Marley sat in his caravan - a makeshift dressing room - complaining about the cold.
The gig was remembered on Friday, when a blue plaque was unveiled at the adjoining Fleming Arms Pub as part of this year's Black History Month.
Promoters Avenue Artists paid the Wailers £75 for the gig, on 29 May.
In his early 20s at the time, Mr Poulton said: "It was very primitive. Bob Marley was sitting on my bed, complaining about being cold.
"The air was thick with the smell of ganja.
"It was something completely new for Southampton. We were in awe - we didn't realise how big he would become."
Around 50 or 60 people were thought to have been packed into the Coach House Club that night. They were mostly students who have long left the city which may explain why the gig had all but disappeared from the Southampton's music folklore.
Milton Geddes, who was 22 at the time, was one of only a handful of Southampton residents in the club.
Steeped in reggae music from growing up in his native Jamaica, he recalls Marley on the small podium stage, giving way to Peter Tosh playing Stop that Train.
He said: "It was a great night - they were blasting away.
"Over the years a lot of people just didn't believe me when I told them it happened," he added.
A plaque commemorating the gig was unveiled in the Fleming Arms in what is the 30th anniversary year of Marley's death.
No footage
Unveiling the plaque, Southampton Solent University's vice chancellor, Prof Van Gore said: "Like so much of Black History, his presence and performance in the city have remained hidden.
"I am delighted, though, that they are now to be celebrated and the record put straight."
Marley went on to become the most widely known and revered performer of reggae music before his death from cancer in 1981 at the age of 36.
There are no known recordings, film footage or still photographs thought to exist of his Southampton appearance.
Did you see Bob Marley in Southampton in 1973? Do you any memories or record of the gig? Email us at south.newsonline@bbc.co.uk