Work starts on new Southampton war memorial wall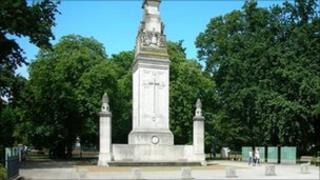 Work has begun to create a memorial to commemorate the men and women of Southampton who died in World War I and II, and other conflicts since then.
The 1,992 names of the war dead on the city's Portland limestone Cenotaph in Watts Park, unveiled on 6 November in 1920, have started to erode.
The authority is now installing eight new glass panels on each side of it.
They will list 3,298 of those who gave their lives serving in the armed forces or Merchant Navy.
Running on the north and south sides of the Cenotaph, the panels will include the names of 2,368 people who died in World War I, 927 who were killed in World War II between, and three who have died since then.
Fundraising
The 1,992 names already on the Cenotaph Roll will also be inscribed, and there will be enough room for another 400 names to be added in the future.
The city council said it hoped the walls would be completed in time for Armistice Day on 11 November 2011 - the 90th anniversary of the unveiling of the original Lutyens' Cenotaph.
The total cost of the project is £130,000, of which Southampton City Council has contributed £50,000.
A campaign to raise the rest of the money is under way with the total raised so far standing at nearly £14,000.
Councillor John Hannides, cabinet member for resources, leisure and culture at Southampton City Council, said: "For some time now we have been working with the Royal British Legion and the Chamber of Commerce to deliver a fitting memorial to our city's heroes.
"The new memorial walls will mean their bravery will never be forgotten."