Clear-up operation after Hampshire battery recycling plant fire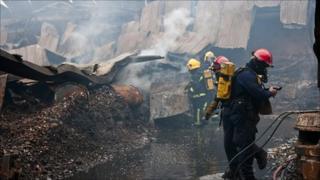 A clear-up operation is under way at a battery recycling plant in Hampshire following a large fire four days ago.
Plumes of smoke could be seen for miles around after the blaze began at the industrial site beside Lasham Airfield on Friday.
A series of explosions could be heard while roads in the village of Lasham were closed and 12 homes evacuated.
Crews are still at the site working to cut away the collapsed structure and remove the melted mass of batteries.
Not suspicious
A spokeswoman said of the clear-up operation was "constrained by the need to avoid contaminated water run-off from the site".
At its height, 70 firefighters tackled the fire, which is not being treated as suspicious.
About 300 tonnes of alkaline zinc chloride batteries and metal oxides were involved and a safety cordon was put in place due to concerns about gas cylinders.
Glider pilots who had been flying from the airfield said they had seen canisters thrown into the air by the explosions, but there were no reports of injuries.
Hampshire Fire and Rescue Service said the fire had initially been "quite small" and staff at the site had tried to tackle it themselves but it quickly spread.
The spokeswoman added: "We are continuing to assist the Environment Agency in the safe removal of potentially contaminated water during the incident.
"An investigation is under way to determine the cause of the fire."