Dr Who mini episode written by Oakley Junior School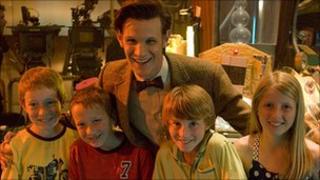 A group of Hampshire school pupils have written a Doctor Who spin-off episode to be shown on BBC Three.
The three-minute episode, Death is the Only Answer, was entered in a BBC competition by pupils at Oakley Junior School in Basingstoke.
The children travelled to studios in Cardiff to watch filming and met Doctor Who actor Matt Smith.
He said: "It was so clever, we were all just bowled over, it was a brilliant script."
'Really skilled writing'
The winning script is a closely guarded secret but involves the doctor, a well known historical figure and a fez.
The competition task for pupils of upper primary school age was to write a script featuring Matt Smith and one of four monsters from the show - Ood, Judoon, Cyberman, or Weeping Angel - as well as a brand new human character to test the wits of the Doctor.
The show's writer Steven Moffat, who helped choose the winning script from all the entries, said it had been "very, very difficult to judge".
He said: "There was some really, really skilled writing, it was very exciting how they caught the voice of the Doctor and how they used the always stringent limitations of Doctor Who to their advantage.
"I come from a family of teachers, I was a teacher, my father's a teacher, my sister's a teacher.
"We go back teacher generations so it's hard-wired for me to want the approval of teachers, so I'm very, very thrilled that it's gone down so well with the schools that took part," he said.
Year six teacher Kevin Downing, from Oakley Junior School, said: "Getting the call to say the pupils were on the shortlist of 10 was an unbelievable moment.
"As for winning, it was the experience of a lifetime and one we'll never forget."
Fans of Doctor Who will be able to watch the pupil's special one-off episode of the Timelord's adventures when the latest series ends on Saturday, 1 October on BBC Three.