Lord Nelson's HMS Victory mast removed during restoration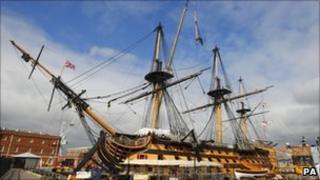 The main mast has been removed from HMS Victory in Portsmouth as part of a major restoration of Admiral Lord Nelson's flagship.
It is the first time in almost 70 years that the ship has been seen without her entire rigging.
The ship is now a museum and is based at Portsmouth Historic Dockyard.
The project was described as the ship's "most extensive restoration" since the 1805 Battle of Trafalgar, during which Lord Nelson was killed onboard Victory.
A recent survey of the 250-year-old ship, which is still the flagship of the second sea lord, showed it was in urgent need of repair.
It revealed HMS Victory was leaking, suffering from rot and was being pulled apart by its own weight.
Oldest commissioned warship
The renovation work which began this summer is set to last 10 years and is being funded by the Royal Navy.
It said it was the biggest rebuild carried out on the ship since it was repaired after the Battle of Trafalgar and the subsequent storm in 1805.
The the main topgallant mast was removed earlier and ship's three large masts, bowsprit and rigging are all being dismantled.
All parts will be catalogued and documented for future surveying, design and replacement.
John O Sullivan, BAE Systems project manager for HMS Victory, said: "When the rigging is replaced a decision will be made as to whether the wooden rope blocks can be re-used, recycled or replaced.
"Our team will carefully manage this major restoration project, keeping disruption to a minimum."
HMS Victory is still a serving Royal Navy vessel and is the oldest ship still in commission with any navy in the world.
The last time Victory was minus its masts was in 1944 when they were removed after having been damaged during a Luftwaffe bombing raid on the dockyard in 1941.
Only a fifth of the original ship remains and is on display in a dry dock at the museum.